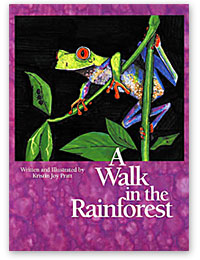 Reading Level:
Ages 4-10
Paperback:
32 pages
Publisher:
Dawn Publications (1992)
ISBN-10:
1878265539
ISBN-13:
978-1878265531

Kristin donates $1.00 from each copy sold of
A Walk in the Rainforest
to the
Children's Eternal Rainforest
in Monte Verde, Costa Rica.
A Walk in the Rainforest (Paperback)
Written and Illustrated by Kristin Joy Pratt-Serafini
"XYZ, the ant, went for a walk in the rainforest, and what do you think he saw?"
Autographed Book Price: $8.95 + $1.50 shipping
Availability: Sorry, currently Out of Stock. More are on the way soon.

Reviews for A Walk in the Rainforest
…an exceptional book on several counts… The book doesn't read like it was written by a child… the wording is simple and readable, yet sophisticated.
— The Parent Newsmagazine
A Walk in the Rainforest is an alphabet book written and stunningly illustrated by a 15 year old Kristin Joy Pratt…
— Parent's Magazine
Alliterative phrases combined with interesting information accompany each illustration. This book was a big hit with children of all ages.
— The Reading Teacher
A Walk in the Rainforest provides a colorful, stimulating way to learn about the exotic animals and plants of the rainforest. Presented in alphabet style format, each page consists of an original, full-color illustration, together with a paragraph of intriguing facts about the lifestyle and habitat of the plant or animal.
— Ingram