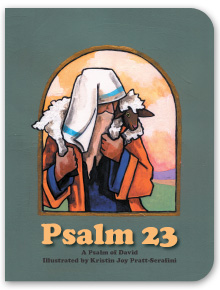 Board Book:
24 pages
Publisher:
Christian Science Publishing Society (2007)
ISBN-10:
0875104118
ISBN-13:
978-0875104119
Psalm 23 (Board Book)
Illustrated by Kristin Joy Pratt-Serafini
The Bible has inspired people of all ages for thousands of years. By studying it, people have become better citizens, learned a deeper love for each other, and found health and peace.
Psalms are songs or hymns of praise. Psalm 23 is popularly attributed to King David. As a young shepherd, David was known for relying on God for guidance. Through the message of Psalm 23 and the beautiful illustrations in this book, children can see the Shepherd safely guiding the sheep as an example of how God cares for each and every one of us.
Kristin Joy Pratt-Serafini loves writing and illustrating children's books. Here, you can follow the same little sheep from her first book with The Christian Science Publishing Society, "Shepherd, Show Me," as they go on a new adventure.
The psalm text is from the King James Version of the Bible.
Autographed Book Price: $12.95 + $3.00 shipping
Availability: In Stock. (Order soon - only 4 copies left.)