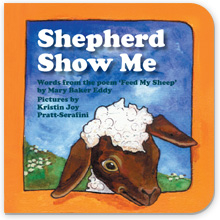 Reading Level:
Ages 0-4
Board Book:
24 pages
Publisher:
Christian Science Publishing Society (2006)
ISBN-10:
0875101836
ISBN-13:
978-0875101835
Shepherd, Show Me (Board Book)
Illustrated by Kristin Joy Pratt-Serafini
Mary Baker Eddy, Discoverer and Founder of Christian Science, wrote many poems in addition to her primary work, Science and Health with Key to the Scriptures. Seven of these poems were set to melodies for the Christian Science Hymnal.
Mrs. Eddy especially loved children. She healed them, taught them how to heal, and founded the Christian Science Sunday School.
This colorful board book will inspire and delight both children and adults. The words of "Shepherd, Show Me" are from Mary Baker Eddy's poem "Feed My Sheep." This poem is set to a variety of melodies in The Christian Science Hymnal (#304-309), and is often the first hymn that children learn; the words "Shepherd, show me" are the first three words of the poem. Each verse of the poem is beautifully illustrated by Kristin Pratt-Serafini.
Autographed Book Price: $12.00 + $3.00 shipping
Availability: In Stock. (6 copies currently available.)