Tuesday, September 14th, 2004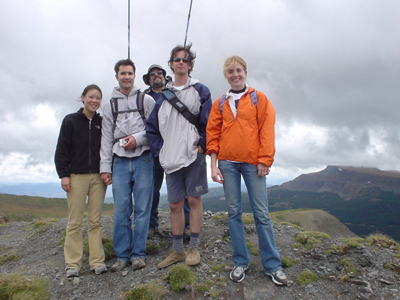 Have you ever had an exciting adventure just sneak up on you out of nowhere and totally surprise you? That's what happened to me this summer. (Yes, this is my "What I Did On Summer Vacation" report…) I was all ready to have a nice, relaxing summer break from my school visit schedule, with a trip out to California to see my husband's family, and hopefully lots of time to work on new book ideas, when SURPRISE!, John Sant'Ambrogio, the Principal Cellist of the St. Louis Symphony called me up. I had no idea what to expect. I packed up a bunch of art supplies and some of my favorite children's books, and then got in the car with 2 complete strangers and drove the 16 hours from St. Louis, MO to Steamboat Springs, CO. Welcome to Arts For The Soul!
This is a photo of my new friends Emily Ho (a violinist in her second season with the St. Louis Symphony), Davin Rubicz (a cellist from Seattle), Chris Woehr (Acting Principal Violist with the St. Louis Symphony), Dmitri Pogorelov (an amazing young Russian violinist finishing up his senior year at Lynn University in Boca Raton, FL), and me – in the middle of the 11-mile loop up to Devil's Causeway. See the blizzard that is about to dump snow all over us in the background?
I couldn't even begin to imagine how these two weeks would change my life. Every morning, classes in chamber music, creative writing, photography, and painting were offered. My official responsibilities included teaching workshops about children's literature and nature journaling. Every afternoon, the students had the option of taking hikes of various levels of difficulty, or catching a ride into town to explore the independent bookstores and coffee houses. All these options offered inspiration for the next morning's creativity. The students who attended all showed up with different skill levels. Gail arrived with a children's book manuscript in hand, and made it through 4 or 5 editing rounds before the end of the first session. While Rachel had just begun to play the cello this March. But at the end of each week, everyone had the chance to share their progress with the group. Gail read her story, and Rachel played a piece on her cello composed especially for her by Chris Woehr, an avid composer and violist with the St. Louis Symphony. I can't tell you how inspiring it was to sit by the fire after that first session and watch all these people stand up and share a painting, a photo, a piece of writing or a piece of music. My job as a visiting author gives me the chance to work with lots of amazing children, but to see adults who were told some time in their lives that their art wasn't important, or that they weren't good enough at it, overcome those formidible limitations was just sublime.
As a wonderful side benefit, I think my own art and writing was definitely enriched by getting out of the studio and talking with other professional painters and authors. But I was just floored by the musicians, since I have the musical sense of a doorknob. You know, I just can't afford to hire a string quartet to play in my studio while I'm creating my children's books. So you can imagine how wonderful it was to walk around the condo complex and hear Mozart, Schubert, Beethoven, and Brahms echoing down the cooridors. Sometimes I would sneak into their practice sessions and paint or write in my journal during the time when I wasn't teaching.