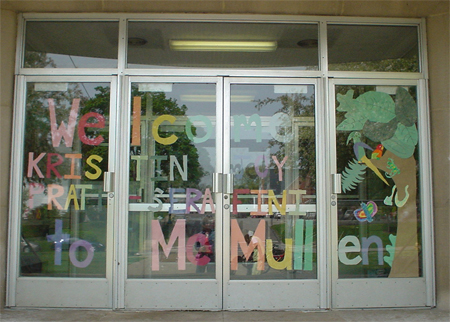 Hi from Loudonville, OH! This trip was a delight for many reasons. The only thing that was not so fun was how the airlines misplaced my luggage on a direct flight from St. Louis, MO to Columbus, OH. Urg. But that's the first time in 12 years of author visits, so I can't complain too much.
Anyway, The good things about this trip far outweighed this minor disaster. Today, I spoke with the K-3 students of McMullen Elementary, and as you can see from the photo above, these kids are very creative. They also decorated the doors of each classroom throughout the building with artwork relating to my books. What fun. One thing that made it easier for me to do my presentations was the fact that there's a wonderful public library across the street from McMullen (K-3) and C.E. Budd (4-6) schools. So instead of moving from class to class, I set up in a conference room in the library, and the students from both schools came to visit me. I think the idea of a mini-field trip helped the kids be on their best behavior. Today I worked with the McMullen students. They were wonderful.
For lunch, the teachers prepared an ABC buffet. Each teacher brought a dish starting with a different letter of the alphabet. I got a chance to visit with the teachers about their students' writing projects and some of my upcoming book ideas. Thank you, McMullen Elementary!