Happy Earth Day! I visited Hagemann Elementary School in Mehlville, Missouri today, where I talked with the fourth and fifth graders in the library. They were a great group, and asked lots of good questions about the writing and illustrating process. Some of the kids even took notes as I spoke. I could tell there were lots of prospective authors and artists in this bunch!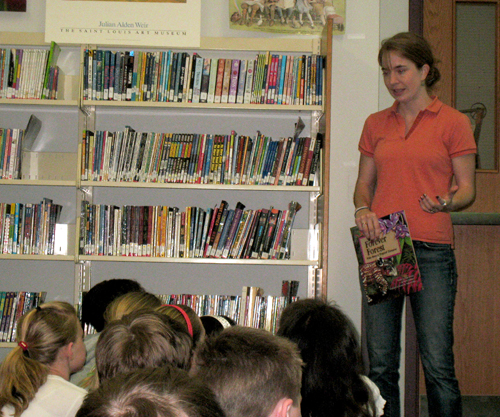 I shared my new book, The Forever Forest, with them. This book tells the inspiring story of the Swedish second grade class who began a movement in 1987 to protect Costa Rican rainforests. Twenty years later, the Children's Eternal Rainforest preserve in Monteverde, Costa Rica is now more than 54,000 acres – the largest private forest reserve in Central America.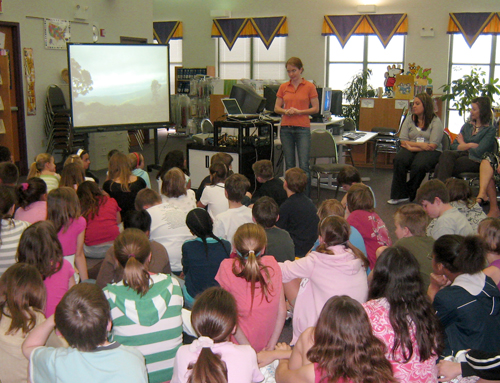 In the photo above, I am showing the students a picture I took of the Children's Rainforest when I went there last year to do research for the new book. One of the teachers said she had actually visited the Children's Rainforest herself. I wouldn't be surprised if this sharp group of kids figured out their own way to help this special place.
In the weeks before my visit, they started working on a pretty cool art project. First, they read my two books Salamander Rain: A Lake & Pond Journal and Saguaro Moon: A Desert Journal. Next, they got busy making their own habitat dioramas with sculpted animals inside. They were still working on painting the habitats, but in the picture below, you can see some of the animals they made. Thanks to Mary Ellen Kopsas for organizing this visit.